Fountain Pen Ink Colour Comparison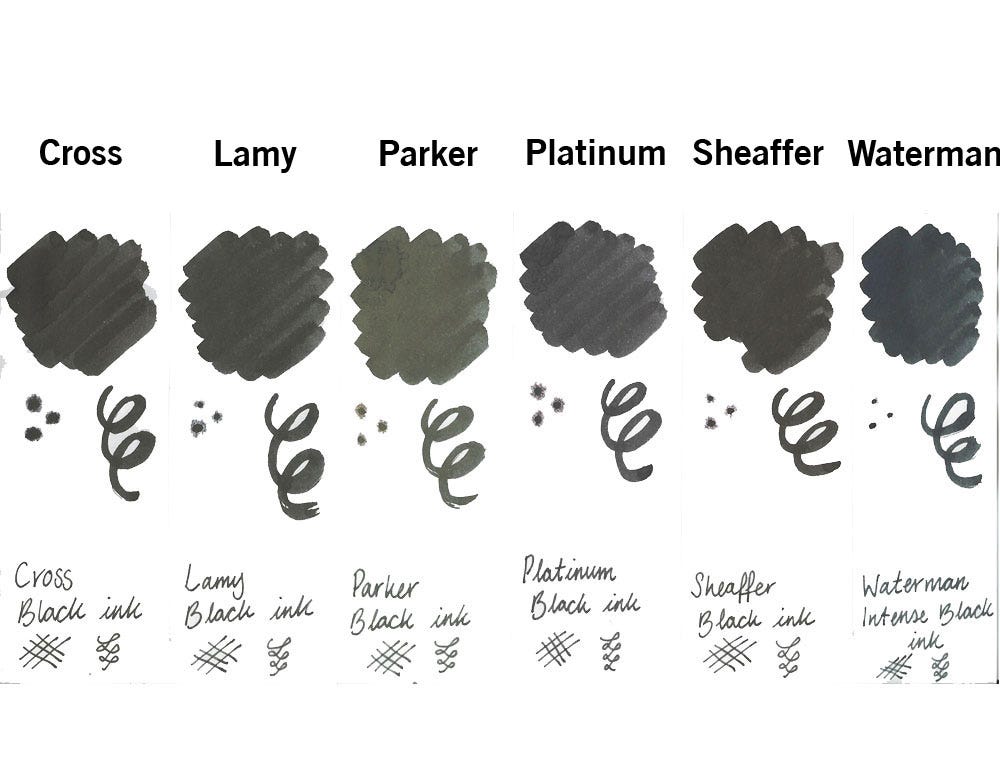 Fountain Pen Ink Colour Comparison
When it comes to writing we can all be rather particular about the ink we use and the colour is a key part of this. Maybe you like a bright blue. Maybe you need black for work and it needs to be truly black, not some wishy washy grey.

Fountain pen inks come in such a range of colours and the manufacturers generally name them all with non-descript titles that give no indication of what you're really getting.

We here at Pen Heaven decided enough was enough. So our ink colour comparison was born. We've compared the biggest brand name inks in blue, black and blue black and given our honest (and at times brutal) opinions of the inks.

The comparison was done using a No.5 paintbrush and a Lamy Studio (Medium nib) on 85gsm white paper.
JUST WANT TO KNOW WHICH INKS CAME OUT ON TOP? JUMP TO OUR TOP PICKS
BLACK INK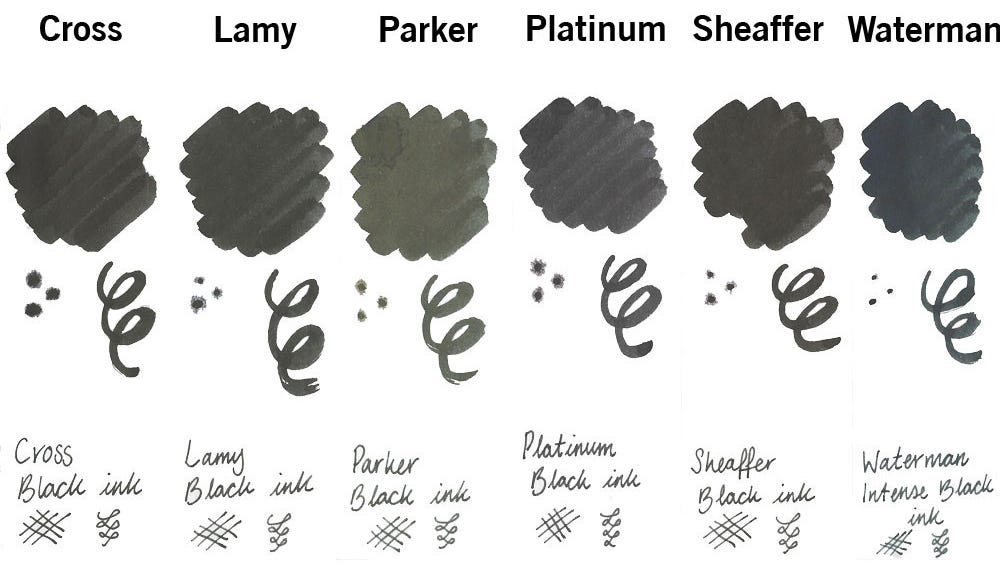 At first glance, there's one obvious flaw here. That Parker's 'Black' ink is not black. The Parker ink dried to a dusky brown which had a distinctly yellow tinge.

After dismissing Parker from the running, we have to try a little harder to figure out what's hot and what's not. Waterman's 'Intense Black' was half right. Definitely intense. Not so much black, with the navy blue hints in the areas of more saturation. The Waterman black scored best on our paper bleed test.

Platinum's black has a nice black colour, but feels a little watery to use and looks washed out compared to the others.

Cross, Lamy and Sheaffer were all very similar in their colour, but we think that Cross just won out on being the blackest, especially when using the fountain pen. However, Cross suffered in the bleed test, creating some feathering in areas.
SCORES
BLACKNESS
PAPER BLEED*

Cross
Sheaffer
Lamy
Platinum
Waterman
Parker

Waterman
Lamy
Sheaffer
Platinum
Parker
Cross

*Includes bleed shown on both sides of the paper
JUST WANT TO KNOW WHICH INKS CAME OUT ON TOP? JUMP TO OUR TOP PICKS
BLUE INK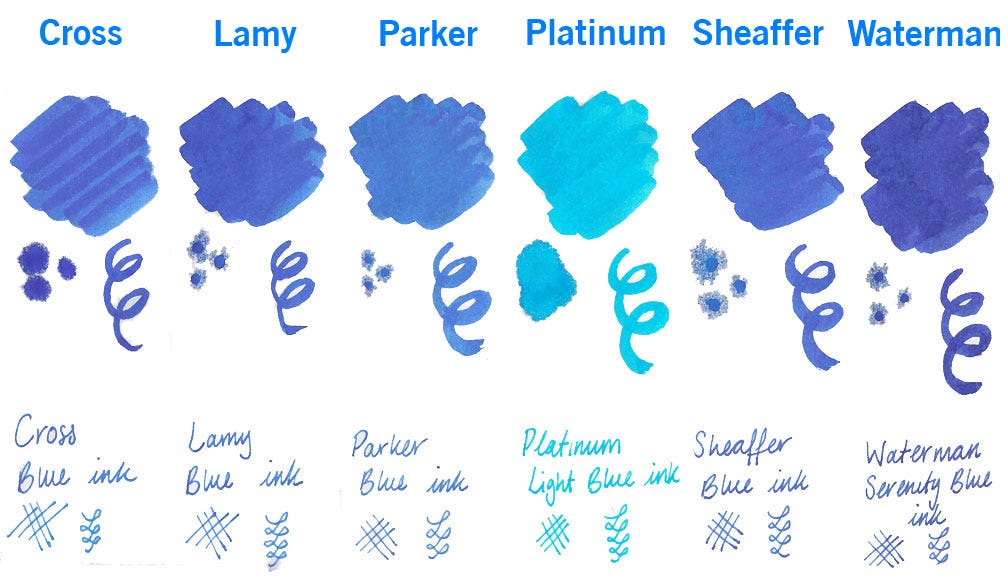 When looking for a blue, we were really looking for something along the Royal Blue lines. A bright mid blue, suitable for all types for writing. Here we found an issue with Platinum's light blue. Although a bright, light blue that was great to write with and looks fantastic, it's not exactly the right shade. We'd definitely call this one Cyan, but it's the best platinum have to offer as they don't do a standard 'blue'.

Once again Cross provided an ink that dried almost immediately on contact with the paper, creating a layered effect with overlapping brush strokes; but again Cross was let down by the bleed. Larger splotches of Cross ink bleed patches through the paper, and the writing looks feathered.

Waterman's offering 'Serenity Blue' was the darkest in colour and had a fabulous intensity, that worked well for both calligraphy and writing.

Parker offer up a washable blue. Designed to easily wash out of skin, clothing and textiles (as all fountain pen users know how much of a pain ink stains can be). This feature does mean that the colour itself is lacking in pigment though, with a washed out look to the 'washable blue'.

Lamy and Sheaffer score highly in our colour testing. Both have the hue desirable for a standard fountain pen blue. Both are vibrant and rich in colour, but the Sheaffer lacks some solidity and appears patchy in larger areas. Sheaffer's blue ink also bleeds considerably, coming fifth out of six.
SCORES
BLUENESS
PAPER BLEED*

Lamy
Sheaffer
Waterman
Cross
Parker
Platinum

Lamy
Parker
Waterman
Cross
Sheaffer
Platinum

*Includes bleed shown on both sides of the paper
JUST WANT TO KNOW WHICH INKS CAME OUT ON TOP? JUMP TO OUR TOP PICKS
BLUE-BLACK INK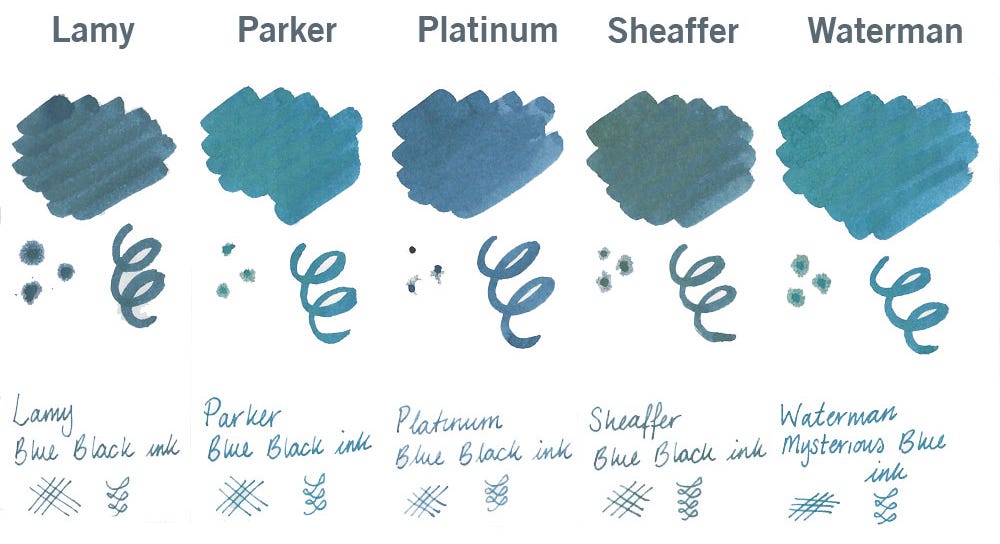 Blue-black is an interesting colour. It provides the dark, serious hues required for a professional environment, without the dour, unforgiving harshness of black.

Out of our six brands, only five provided a blue-black option.

Most of the inks were tinged by green hues to varying degrees, steering the colour away from blue-black towards deep turquoise colours, especially when layered. Parker and Waterman are the most obvious examples of this, and whilst both beautiful colours, they fall short of their blue-black name when used for calligraphy. Sheaffer, whilst darker, also suffered from this problem. In smaller areas all three were closer to the mark, but still not blue-black.

Lamy were successful in creating the most truly blue-black in colour, but the ink bled considerably and looked speckled when used for both writing and calligraphy.

Platinum's solid look and midnight blue colour gave us goose-bumps. It was exactly what we had been looking for. The ink layered nicely and gave varied effects when using the brush. The colour was vibrant enough to stand out, but serious enough for the workplace.
SCORES
BLUE-BLACKNESS
PAPER BLEED*

Lamy
Platinum
Sheaffer
-
Parker & Waterman

Platinum
Parker
Sheaffer
Lamy
Waterman

*Includes bleed shown on both sides of the paper