The Pen as Status Symbol?
The Pen as Status Symbol?
Does your pen reflect your status in life, the way your clothes or car might? Very often it's the details that send the most powerful signals, and your pen is a great opportunity to show your colleagues just how serious you take your work. It shows you pay attention to the finer details. At Pen Heaven we don't like to admit it, but most people do overlook having a nice pen, and so producing a stylish writing instrument can turn heads. Everybody from James Bond to Gordon Gekko carried a stylish pen; used to mark ones authority. The Queen uses a Parker 51 with gold cap, Barack Obama signs important documents with a Cross Townsend rollerball and Peter Jones from Dragons Den scribbles notes with a Yard O Led Viceroy.
What the Experts Say
Mark Hedley, Editor, Square Mile - "Alongside his watch and his shoes, no accessory says more about a man than his pen. It's especially important if you work in the City: if you can't be trusted to buy (and not lose) a decent pen, then why should you be trusted to manage other people's money?"- Mark Hedley, Editor, Square Mile
Simon Mills, Man About Town, editor at oracle time magazine, contributing editor at GQ "A beautiful fountain pen is, to a gentleman's hand what a pair of handmade shoes are to his feet."
Nick Hewer (the apprentice) In an interview with the Daily Express "I'm not one for ostentatious treaty-signing type pens but I do think in business making an effort with the little things sends out a signal that you are serious about what you are doing."
Count Anton Wolfgang von Faber-Castell in an interview with the Telegraph "As a man, there are not too many accessories. You can have cuff links, and I love cuff links, you used to wear tie clips, but no one seems to do that anymore, and you can wear a watch. And when it comes to status, there is the pen and pencil."
The Pen Heaven Edit
Like Nick Hewer, we don't believe in sold gold, diamond encrusted pens. Not only are they ostentatious, but they are way out of most price ranges. At Pen Heaven we have hand-picked our top prestige pens without breaking the bank, with the right kind of visual flair to impress your colleagues.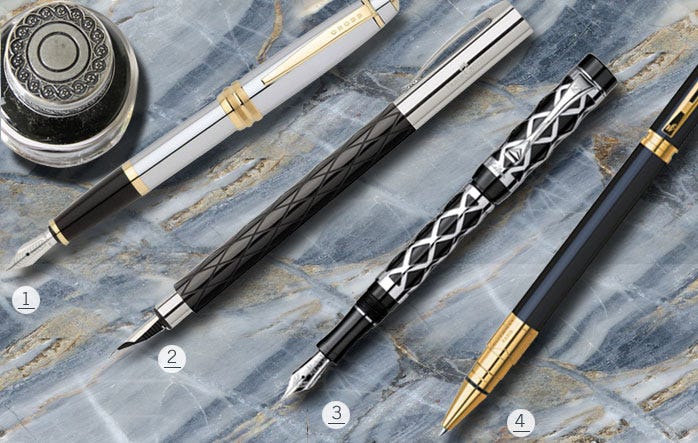 1. Cross Bailey Medalist Fountain Pen - Influenced by Art Deco, Cross Pens are our first choice status symbol pen, with shiny metals and streamlined design. The Bailey features subtle detailing, such as the engraved centre band, typically associated with pricier pens.
2. Faber Castell Ambition Rhombus Fountain Pen - A barrel of precious resin with a rhombus design brings a three dimensional quality and opulence to the whole affair.
3. Laban Maya Fountain Pen -  Our most flamboyant pen on the list, the Laban Maya features an exceptional sterling silver lattice
4. Waterman Perspective Rollerball Pen - The Waterman perspectives angular styling in inspired by the geometry of the cityscape, perfect for the quintessential 'City-Boy' (or girl)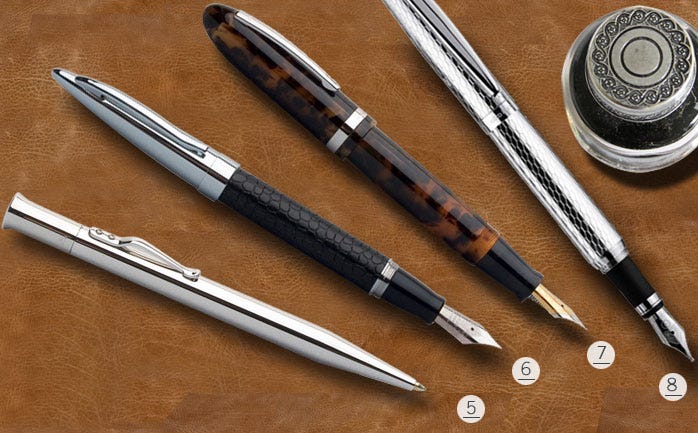 5. Laban 925 Sterling Silver Ballpoint Pen - Nothing says luxury quite like sterling silver. The Laban sterling silver ballpoint pen features a traditional fluted design, which exudes old world charm and elegance from the Victorian era.
6. Coles Millerand Black Leather Fountain Pen - Leather, lustrous chrome and sleek curveds gives the illusion of luxury, at an extremely affordable price
7. Laban Mento Resin Fountain Pen - Impressive proportions grant this pen status symbol, with its cigar profile and significant 15mm width. Hand turned Italian resin in tortoise shell adds a sartorial flavour.
8. Otto Hut Honeycomb Silver Fountain Pen - Otto Hut is our go to brand for sterling silver, offering fantastic value for this precious metal. This pen has a cigar shape profile typically associated with luxury pens, whilst a honeycomb engraving pattern adds a little individuality and intrigue.