Rollerball vs. Ballpoint Pens: A comparison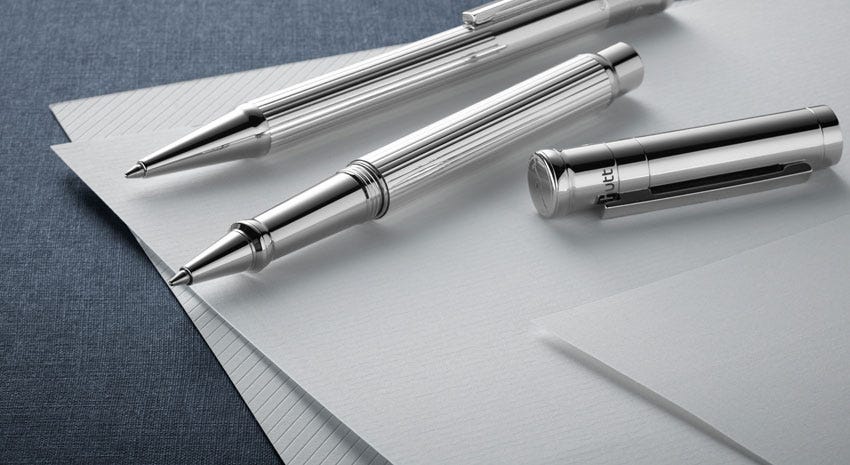 Rollerball vs. Ballpoint Pens: A comparison
Ballpoint pens are very similar to rollerballs but there are several key differences.
Ink
Ballpoint pens uses a thick oil-based ink, whilst rollerball pens use a water-based ink, more similar to the ink used in fountain pens. These two styles of ink act very differently to one another. We've highlighted the key difference below:
Oil-based inks can be thick and sticky, which will sometimes leave blobs of ink on the page or be difficult to start writing after long breaks between uses
Water-based ink is more fluid and usually provides a smoother writing experience
Oil-based inks are less prone to drying then water-based inks
Oil-based inks generally last much longer than water-based inks; even if both pens have been stored properly
Body
Due to the inks used, ballpoints and rollerballs have different barrel styles. As a ballpoint pen's oil-based ink is less prone to drying, it does not require a cap, so these generally use a twist mechanism or a click mechanism to expose the writing tip. A rollerball pen, with its water-based ink, needs its tip kept out of the air and so will generally have a cap to enclose the writing tip. It's very important to remember to cap your rollerball pen when not in use to avoid the refill from drying out. Many find that ballpoint pens are more convenient as they do not have a cap and can be used with one hand. Occasionally you can find a capless rollerball pen, like the Cross Edge or Lamy Tipo, where you have the best of both worlds.

Writing
The fluidity of ink translates to a rollerball pen generally having a finer writing line, which is good for people with smaller handwriting or for detailed drawings. On the other hand, a ballpoint pen does have a more controlled action and is deemed suitable for completing official forms and documents. A rollerball pen may cause slight bleeding onto the back of the paper depending on the quality of the paper and the pressure at which one writes. We've provided scans showing the stroke of each type of pen as well as the bleed onto the back of the paper. The paper which we've used is standard 80GSM computer printer paper.

Picture 1: Note that the rollerball pen writes a darker, finer line.

Picture 2: Note that the roller pen causes negligible bleed onto the back of the paper while the ballpoint pen causes no bleed.
BALLPOINT v ROLLERBALL
BALLPOINT

ROLLERBALL

PROS:

Ink is suitable for use on official documents
Ink does not bleed through the paper
Body style / mechanism means the pen can be used one handed
Ink tends to dry almost instantly avoiding smudges

PROS:

Less pressure needs to be applied when writing.
Smoother writing
Available with finer tip points

CONS:

The ink can feel thick and sticky
If left for a long time it can be difficult to get the pen writing again
Big blobs of ink will take a long time to dry and will leave big smudges if you try to wipe away

CONS:

Refill more prone to drying
Shorter refill life even when stored properly
Ink can smudge fairly easily in the moments after writing
SHOP NOW:
Comments
That is not what i want!!!

Sorry to hear that, do you mean the article doesn't contain the advice you were looking for? If so please let us know and we'll see if we can update it when we have time

Sorry to hear that, do you mean the article doesn't contain the advice you were looking for? If so please let us know and we'll see if we can update it when we have time

So is the rollerball pen more liquidy and easier to smudge with?

Hi Jack, yes rollerballs contain liquid ink so they do smudge more easily, but they also produce a darker line and glide more easily across the page.

Hi Jack, yes rollerballs contain liquid ink so they do smudge more easily, but they also produce a darker line and glide more easily across the page.

In that case can I assume that a rollerball does not suit a left hander since it is easier to smudge?

Possibly - however some left-handers have trained themselves to avoid smudging by writing above or below the line, so it really depends on the user. Many left-handed people will be fine with a rollerball.

Possibly - however some left-handers have trained themselves to avoid smudging by writing above or below the line, so it really depends on the user. Many left-handed people will be fine with a rollerball.

is a ballpoint pen the same thing as a 'Biro' as called in Nigeria?

Hi Lola, a Biro is a form of ballpoint pen, with a metal ball writing tip and filled with oil-based ink - so yes, they function in the same way. Hope that answers your question!

Hi Lola, a Biro is a form of ballpoint pen, with a metal ball writing tip and filled with oil-based ink - so yes, they function in the same way. Hope that answers your question!

According to your experience, which model result better to use. ? Roller ball or Ball point pen?

Hi Juan, it's purely down to personal preferance. We'd probably recommend trying a friend's pen and seeing what you prefer.

Hi Juan, it's purely down to personal preferance. We'd probably recommend trying a friend's pen and seeing what you prefer.

Hi, evry time i used to check weblog posts herre in thee

early hours in the morning, for the reason that

i enjoy to fknd ouut more and more.

Thanks Elmo, glad you're enjoying the blog!

Thanks Elmo, glad you're enjoying the blog!

Hi

Are rollerball pens the same as gel pens?

Hi Kevin - they're very similar. A rollerball pen is filled with liquid ink whereas gel ink is more viscous. There's very little difference in the feel though and the two systems are mechanically identical, so practically speaking they're more or less the same.

Hi Kevin - they're very similar. A rollerball pen is filled with liquid ink whereas gel ink is more viscous. There's very little difference in the feel though and the two systems are mechanically identical, so practically speaking they're more or less the same.

I am left handed and tend to smudge ink. I would like to buy a high quality pen. It appears I may need to buy a ballpoint. I was wondering if a High quality Rollerball with an extra fine tip (0.5mm) might give me a crisp line without smudging. If not, then is a high quality ballpoint at 0.5 available. I also understand that with some pens the ball is not centered well, and they therefore scratch more and are less reliable. Is there a higher quality brand that is more reliably centered? Thank you for your response.

Hi... I'm bharat. I'm totally confused as to which pen suits my handwriting style... Wish I could show u how pathetic it is. Anyways.... I want to write bolder and faster since my habdwriting is small and I don't write the complete alphabets which makes it difficult to understand. May be a bolder non would help. I recently got a lamy broad min also but I find it too broad. I'm confused and I have to write a competitive exam in a couple of months... I'm really in need of help and guidance pls....thanks

Thanks for your comment. If you'd like to write faster we'd recommend either a rollerball pen, a gel ink ballpoint refill or a fountain pen, as these would have the smoothest ink flow. In regards to a finding a broad nib that isn't too broad, you might want to try a Parker Sonnet fountain pen with a broad nib.

We would also highly recommend reading 'Improve Your Handwriting: Teach Yourself' by Rosemary Sassoon. It is available from Amazon and has excellent reviews.

Thanks for your comment. If you'd like to write faster we'd recommend either a rollerball pen, a gel ink ballpoint refill or a fountain pen, as these would have the smoothest ink flow. In regards to a finding a broad nib that isn't too broad, you might want to try a Parker Sonnet fountain pen with a broad nib.

We would also highly recommend reading 'Improve Your Handwriting: Teach Yourself' by Rosemary Sassoon. It is available from Amazon and has excellent reviews.

I'm vision impaired, and currently use a gel ink pen with 1.0 mm point. I've been looking at fountain pens online, but am concerned about leaks. Are there any broad and bold rollerball pens?

Thanks for your comment. I am not aware of any rollerball pens which have a broad tip. Gel ink pens have good ink flow and if you are looking for something smoother, I would recommend a Lamy Fountain pen with a broad nib. I use a Lamy Fountain pen on a daily basis and have never had a problem with leakage.

Agreed, I have 3 LAMY pens... 2 Safari's, and the most recent purchase, a Lamy Al-Star with a broad nib. The medium nib is still pretty thick when compared to something like a 1.0 M PaperMate ballpoint.

Lamy is a good daily writer, and you can swap nibs without having to dismantle the pen or remove the ink cartridge. Downside though is it doesn't take a standard/universal cartridge or converter. You'll have to get the Lamy converter or buy Lamy ink cartridges.

Agreed, I have 3 LAMY pens... 2 Safari's, and the most recent purchase, a Lamy Al-Star with a broad nib. The medium nib is still pretty thick when compared to something like a 1.0 M PaperMate ballpoint.

Lamy is a good daily writer, and you can swap nibs without having to dismantle the pen or remove the ink cartridge. Downside though is it doesn't take a standard/universal cartridge or converter. You'll have to get the Lamy converter or buy Lamy ink cartridges.

Are you still looking? I thought if mention that the stigma of leaking with fountain pens only applies to pens before World War II, all modern pens have as much possibility of leakage as any other pen. Meaning zero unless you throw it a wall several times or something. The only mess possible is spilling an ink bottle, but there are cartridges to buy anyway which are no mess.

Modern fountain pens don't leak unless really abused as long you don't take them with you on an airplane or go mountain climbing. The cheap Japanese fountain pens are very neat and tidy but, I find the feeds on the double broads to be a bit stingy unless your write slowly. For a very heavy line with a fountain pen, the European nibs lay a fatter line that a similar Japanese pen too. Waterman Experts seem to be a good mid-tier entry point for me with their nice nibs, brass body (for weight) and, modest price when gently used on the second hand market. Shaeffer Preludes are nice as well at $20~25USD.

Thanks for your comment. I am not aware of any rollerball pens which have a broad tip. Gel ink pens have good ink flow and if you are looking for something smoother, I would recommend a Lamy Fountain pen with a broad nib. I use a Lamy Fountain pen on a daily basis and have never had a problem with leakage.

Are you still looking? I thought if mention that the stigma of leaking with fountain pens only applies to pens before World War II, all modern pens have as much possibility of leakage as any other pen. Meaning zero unless you throw it a wall several times or something. The only mess possible is spilling an ink bottle, but there are cartridges to buy anyway which are no mess.

Modern fountain pens don't leak unless really abused as long you don't take them with you on an airplane or go mountain climbing. The cheap Japanese fountain pens are very neat and tidy but, I find the feeds on the double broads to be a bit stingy unless your write slowly. For a very heavy line with a fountain pen, the European nibs lay a fatter line that a similar Japanese pen too. Waterman Experts seem to be a good mid-tier entry point for me with their nice nibs, brass body (for weight) and, modest price when gently used on the second hand market. Shaeffer Preludes are nice as well at $20~25USD.

This is a very interesting blog. It is very well presented, easy to understand, and was exactly what I was looking for. Thank you!

-Jax

Hi. I believe that gel pens are airplane safe.

Is anyone aware whether the gel/ink type pens are also airplane safe?

Many thanks

I've just had three UK passport applications turned down by the Post Office as I'd used a rollerball type pen. The PO official says the ink doesn't scan but it seemed to go through my two year old scanner and my thirteen year old scanner without incident.

We haven't heard of this before. Rollerball ink is usually water-based, so I don't know if it is a good idea to use it on official documents. I would recommend a ballpoint pen or a fountain pen with carbon ink.

I don't think the problem is with ballpoint pens vs roller ball pens...it's the color. Yes most governments want you to use blue ballpoint pen for documents...and here is why. If you make a copy of a document, it always comes out black. They want to make sure it is the original document, and not a copy. Therefore, it's not the type of ink pen you use, but rather the color of ink. In most cases they want it in blue. ... which is sort of strange because blue ink doesn't copy that well. But leave it to the government! :)

We haven't heard of this before. Rollerball ink is usually water-based, so I don't know if it is a good idea to use it on official documents. I would recommend a ballpoint pen or a fountain pen with carbon ink.

I don't think the problem is with ballpoint pens vs roller ball pens...it's the color. Yes most governments want you to use blue ballpoint pen for documents...and here is why. If you make a copy of a document, it always comes out black. They want to make sure it is the original document, and not a copy. Therefore, it's not the type of ink pen you use, but rather the color of ink. In most cases they want it in blue. ... which is sort of strange because blue ink doesn't copy that well. But leave it to the government! :)

Are there ballpoint and rollerball pens with mechanisms that are higher quality than those in inexpensive pens?

The best inexpensive (ie 'cheap') rollerball that I've found is the Vision Elite by Uni-ball. It has an internal ink reservoir just like a fountain pen which helps regulate changes in pressure. You can pack a Uni-ball rollerball in your checked luggage and never worry about it exploding. I live in Colorado at 4,560 feet but I have visit job sites sometimes 10,000 feet and higher. I have never had a problem with this pen, even in winter. They are pretty sharp looking too and would fit right in at the office. They come in white or black with chrome accents. You can find them pretty much anywhere that sells pens. Even the grocery store. They are always the priciest 'budget' pen, averaging $3 per pen, but so worth it. And one last thing, get a 0.7 Fine or 0.8 Bold for best results. I would avoid the 0.3 Needle and 0.5 Micro.

The best inexpensive (ie 'cheap') rollerball that I've found is the Vision Elite by Uni-ball. It has an internal ink reservoir just like a fountain pen which helps regulate changes in pressure. You can pack a Uni-ball rollerball in your checked luggage and never worry about it exploding. I live in Colorado at 4,560 feet but I have visit job sites sometimes 10,000 feet and higher. I have never had a problem with this pen, even in winter. They are pretty sharp looking too and would fit right in at the office. They come in white or black with chrome accents. You can find them pretty much anywhere that sells pens. Even the grocery store. They are always the priciest 'budget' pen, averaging $3 per pen, but so worth it. And one last thing, get a 0.7 Fine or 0.8 Bold for best results. I would avoid the 0.3 Needle and 0.5 Micro.

Terrific work! That is the type of information that are supposed

to be shared around the internet. Shame on the search engines for no longer positioning this publish upper! Thank you =)

Hi,

I'm looking to get my husband a Mont Blanc for his 40th. He uses gel pens - should I go rollerball?

Thanks

A gel ink refill is between ballpoint ink and rollerball ink in terms of its properties. It's free flowing, but won't dry as quick as the water based inks of most refills. You can get gel refills for certain brands in either ballpoint or rollerball, so it's really going to be about what writing type your husband prefers and if you can get a gel refill to fit the pen.

If you are just looking to purchase a pen and not switch refills then probably rollerball.

A gel ink refill is between ballpoint ink and rollerball ink in terms of its properties. It's free flowing, but won't dry as quick as the water based inks of most refills. You can get gel refills for certain brands in either ballpoint or rollerball, so it's really going to be about what writing type your husband prefers and if you can get a gel refill to fit the pen.

If you are just looking to purchase a pen and not switch refills then probably rollerball.

Ballpoint pens can take different width cartridges,e.g. they produce thicker or thinner lines. Is this true for roller point pens too? If not is their line just like the thinnest of the ballpoint refills? Thanks

Many manufacturers do different tip widths for their ballpoint pens, but its more unusual to find various widths in rollerballs. We know that Lamy and Parker do them.

Also don't try and compare line widths between writing types. A medium ballpoint might be 0.8mm line width, but a rollerball 0.7mm... It's not really clear cut as this will also vary brand to brand.

Many manufacturers do different tip widths for their ballpoint pens, but its more unusual to find various widths in rollerballs. We know that Lamy and Parker do them.

Also don't try and compare line widths between writing types. A medium ballpoint might be 0.8mm line width, but a rollerball 0.7mm... It's not really clear cut as this will also vary brand to brand.

That is not what i want!!!

So is the rollerball pen more liquidy and easier to smudge with?

In that case can I assume that a rollerball does not suit a left hander since it is easier to smudge?

is a ballpoint pen the same thing as a 'Biro' as called in Nigeria?

According to your experience, which model result better to use. ? Roller ball or Ball point pen?

Hi, evry time i used to check weblog posts herre in thee

early hours in the morning, for the reason that

i enjoy to fknd ouut more and more.

Hi

Are rollerball pens the same as gel pens?

I am left handed and tend to smudge ink. I would like to buy a high quality pen. It appears I may need to buy a ballpoint. I was wondering if a High quality Rollerball with an extra fine tip (0.5mm) might give me a crisp line without smudging. If not, then is a high quality ballpoint at 0.5 available. I also understand that with some pens the ball is not centered well, and they therefore scratch more and are less reliable. Is there a higher quality brand that is more reliably centered? Thank you for your response.

Hi... I'm bharat. I'm totally confused as to which pen suits my handwriting style... Wish I could show u how pathetic it is. Anyways.... I want to write bolder and faster since my habdwriting is small and I don't write the complete alphabets which makes it difficult to understand. May be a bolder non would help. I recently got a lamy broad min also but I find it too broad. I'm confused and I have to write a competitive exam in a couple of months... I'm really in need of help and guidance pls....thanks

I'm vision impaired, and currently use a gel ink pen with 1.0 mm point. I've been looking at fountain pens online, but am concerned about leaks. Are there any broad and bold rollerball pens?

This is a very interesting blog. It is very well presented, easy to understand, and was exactly what I was looking for. Thank you!

-Jax

Hi. I believe that gel pens are airplane safe.

Is anyone aware whether the gel/ink type pens are also airplane safe?

Many thanks

I've just had three UK passport applications turned down by the Post Office as I'd used a rollerball type pen. The PO official says the ink doesn't scan but it seemed to go through my two year old scanner and my thirteen year old scanner without incident.

Are there ballpoint and rollerball pens with mechanisms that are higher quality than those in inexpensive pens?

Terrific work! That is the type of information that are supposed

to be shared around the internet. Shame on the search engines for no longer positioning this publish upper! Thank you =)

Hi,

I'm looking to get my husband a Mont Blanc for his 40th. He uses gel pens - should I go rollerball?

Thanks

Ballpoint pens can take different width cartridges,e.g. they produce thicker or thinner lines. Is this true for roller point pens too? If not is their line just like the thinnest of the ballpoint refills? Thanks