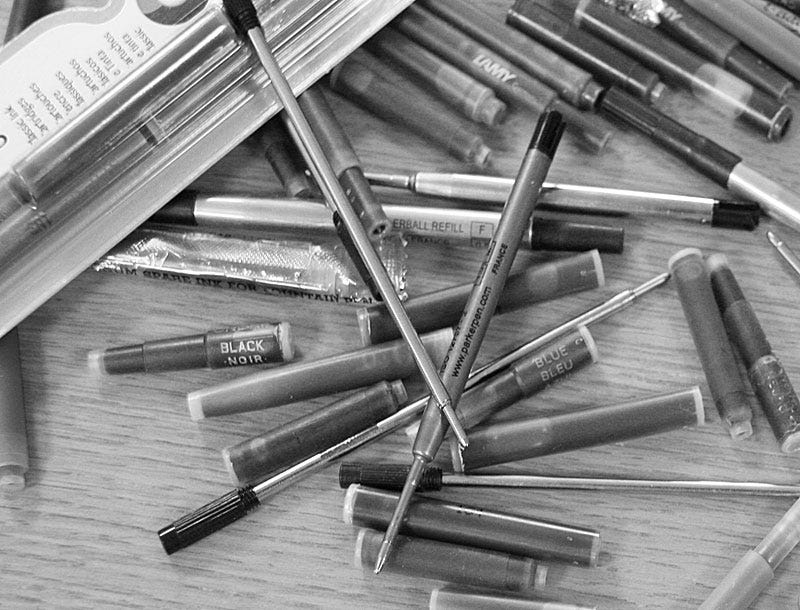 Refill Guide
Choosing the correct refill
for your pen is important, but sometimes it hard to know which is right. Some brands have specific sizes and profiles to fit their pens, some take standard sizes, some brands even do refills designed for other brands. Pen Heaven have come up with this easy to use refill guide to help you navigate your way through the many options available.
Generally if you want a refill for your pen look for a branded refill that matches your pen and type. If you can't find a branded refill this is usually because the manufacturer does not make specialised refills and your pen will take the International Standard for that writing type.
Try Our Refill Finder
There's two ways to find a refill that fits your pen.
CARAN D'ACHE

Caran D'ache ballpoint pens take a super-sized refill, with an extra-long writing life, called the Goliath.
Medium point
Available in black only
CROSS
FISHER SPACE

Fisher Space are known for their ballpoint pens that will write anywhere. Up-side down, on wet paper, in space, underwater. The innovative ballpoint refill is pressurised so that the smooth consistent writing line can function in the most unlikely of environments
Brand specific
Medium writing point
Available in black and blue
LAMY
OHTO

Specially designed for the Ohto's slim profile these refills are brand specific.
Fine 0.7mm writing point
Black only

Compatible only with Ohto Tasche Petit Ballpoint Pen.
Ultra Fine 0.5mm writing point
Black only

Ohto rollerball refills are euro-format.
Available in black and blue
0.5mm writing point
Ceramic ball tip
PARKER
Parker Ink Cartridges
Standard

Short

Parker use two types of ink cartridge. Both are compatible with all Parker fountain pens. The only difference being the size and thereby the amount of ink they hold and how long they will last before needing to be changed.
Parker ink cartridges use 'Quink' ink technology which utilises alcohol in the ink instead of water, creating a very quick drying and smudge resistant ink.
Parker Quink Short Cartridges are the International Standard Short ink cartridge size.
Available options: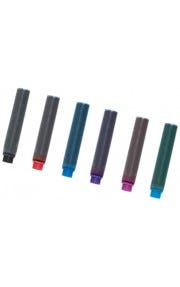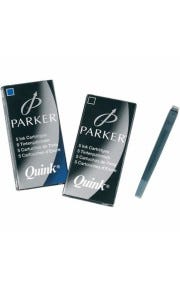 Parker Rollerball Refill

Parker rollerball refills are brand specific, fit all Parker rollerball pens and come in two writing widths.
Available options:
PLATINUM
Platinum Ink Cartridges

Platinum use a brand specific style of ink cartridge and are available in three options.
Available options:
Carbon Ink Cartridges
Permanent ink
Suitable for Platinum Fude Brush and Platinum Desk Pen
Come in packs of 4
Available in black only
SHEAFFER
Sheaffer Ballpoint Refill

Sheaffer make their own brand specific refills which fit most Sheaffer ballpoint pens, but the Taranis and the Sagaris ranges take the
International Standard
ballpoint refill size. Sheaffer brand refills are available in fine and medium writing points. Colour choice is limited to black or blue.
Available options:

Sheaffer fountain pens use their own brand specific ink cartridges, except for VFM which uses
Standard International
Short ink cartridges
Available in a variety of colours
Come in packs of 5
Sheaffer Rollerball Refill
Sheaffer have two styles of rollerball refill. Classic and Slim. The Slim style is
Standard International
Euro format.
Sheaffer rollerball refills are range specific.

Available in black and blue
Medium writing point
Suitable for Legacy and Prelude
WATERMAN

Waterman ballpoint refills are brand specific. Waterman has an excellent history of ink based innovation and they have continued this trend in creating some great ballpoint refills, which are long lasting and have a smooth consistent writing style.
Medium writing point
Available in black and blue

Waterman rollerball refills are available as a fine point only.
Available in black and blue.
Fine 0.5mm writing point.
YARD-O-LED

The Yard-o-Led Standard ballpoint refill will fit Diplomat, Deco, Deluxe, Perfecta, Regent and Viceroy ranges.
Pocket size Yard-o-Led ballpoint pens need
Standard International
multifunction size refills.
Medium writing point.
Available in black and blue.
STANDARD INTERNATIONAL